Diversity, equity and inclusion
The Graduate Medical Education programs of Prisma Health Upstate are committed to fostering a safe, supportive and inclusive clinical learning environment for our trainees, faculty, staff and all who come through our doors. We recognize that our diversity is one of our greatest assets in training clinically excellent and culturally competent physicians.
It is imperative to acknowledge systems of privilege and disparity, and essential to address and improve the resulting inequities in our healthcare system and community. We pledge to create and maintain a system in which all perspectives are valued and respected for the greater good of our community of learners and the patients we serve.
Moving forward together
Our goal is to strengthen and support a growing network of diversity in healthcare. Our Diversity, Equity and Inclusion GME Subcommittee is an active group of leaders, residents and fellows who seek to elevate and unify the experiences of learners of different backgrounds and training throughout our entire learning enviorment and health system. We invite you to learn more about the people, community, and resources availalble to inform, promote, and support our diverse workforce.
People
Get to know our leadership and meet our committee members.
Community
We focus on diversity by shining the spotlight on and celebrating our differences.
Resources
Easy access to tools and resources to support your journey.
Justice, Equity, Diversity and Inclusion Award
The Prisma Health Justice, Equity, Diversity, Inclusion (JEDI) Award was created by the Graduate Medical Education (GME) Diversity, Inclusion, Equity (DEI) Subcommittee in 2021 to recognize the outstanding work by post-graduate physicians (residents and fellows) and clinical faculty. Often overlooked, this difficult work is crucial to engendering a safe learning and working environment and providing high-quality, equitable, culturally proficient care to all patients.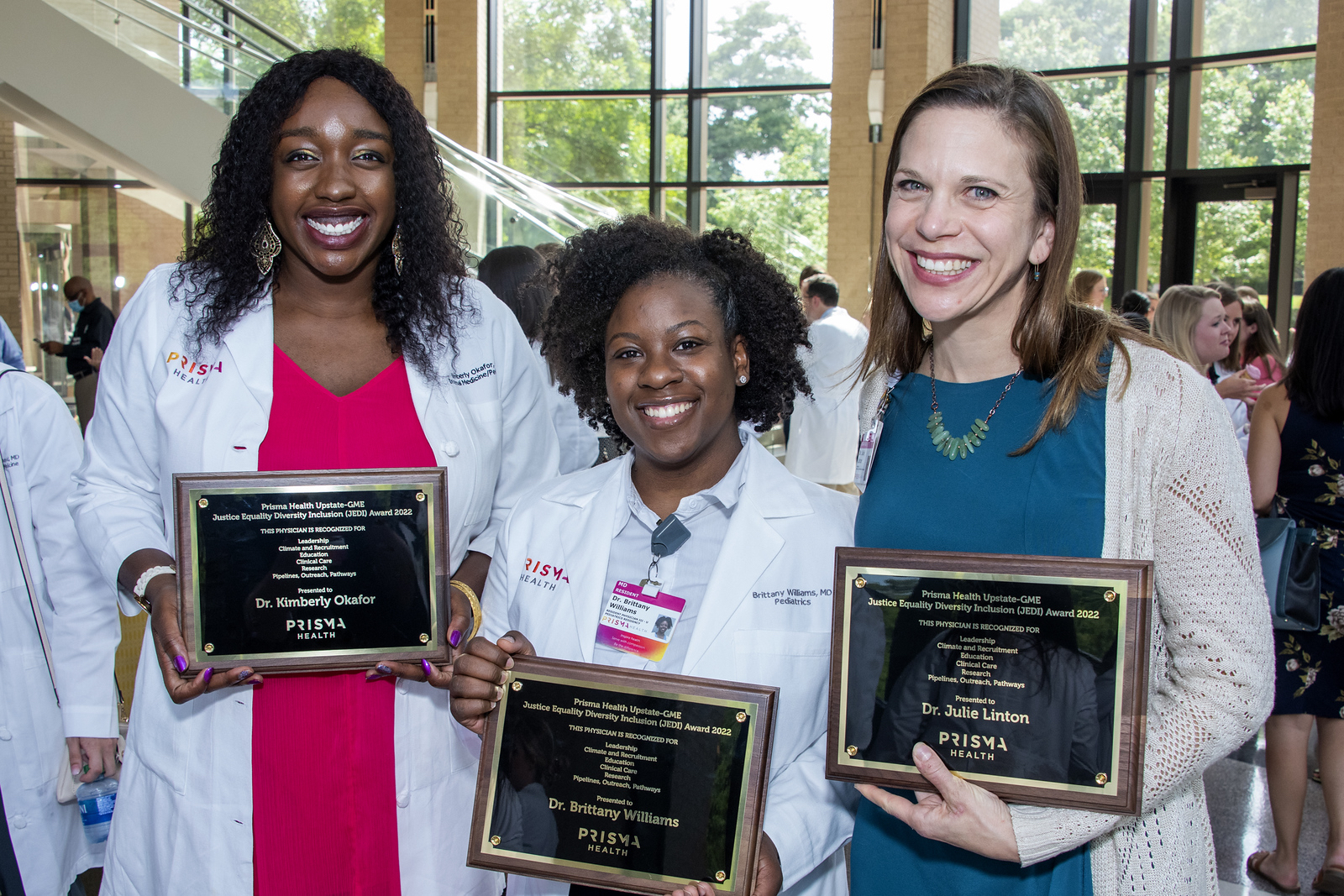 Congratulations to our 2021 JEDI award winners
Dr. Kimberly Okafor PGY-4
Med-Peds Residency Program
Dr. Brittany Williams PGY-3
Pediatrics Residency Program
Dr. Julie Linton
Associate Professor of Pediatrics
Associate Dean for Admission at the USC-SOM Greenville, Department of Pediatrics