Life in Greenville, South Carolina
Greenville is an incredible place to live for anyone. Fantastic weather and year-round amenities are only part of what Greenville has to offer.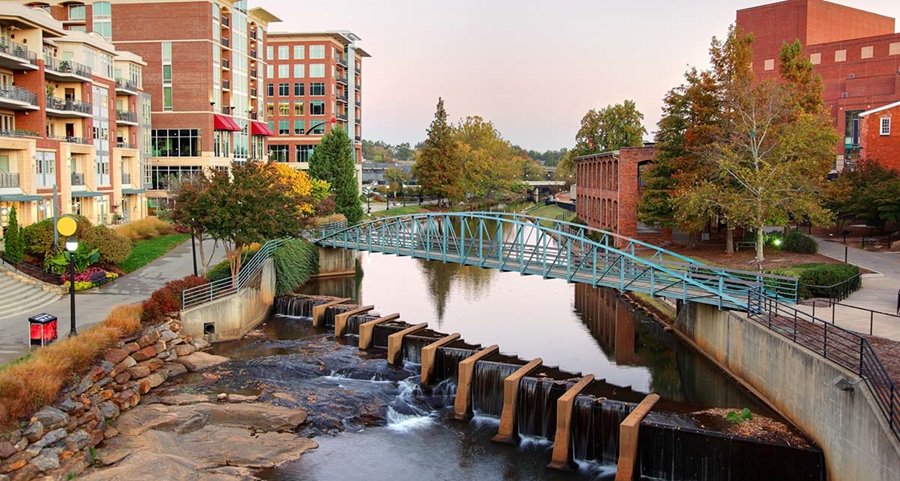 Prisma Health and USC School of Medicine Graduate Medical Education in Greenville, South Carolina
The attractiveness of Greenville is gaining national recognition with a list of accolades that keep growing. Here are a few:
Living
Greenville is very affordable, with the cost of living below the national average. From its thriving downtown to the easily accessible suburbs, the variety of places to live appeals to urbanites and those seeking a parcel of the countryside. Reasonably priced apartments abound downtown, allowing you to live, work and play all by walking or biking. Similarly, suburbs provide a wide range of apartments or houses to buy or rent.
Calculate the cost of living with Greenville as an option.
Around town
Restaurants and bars line downtown's Main Street, with additional options in nearby neighborhoods, along Woodruff Road and in Travelers Rest.
The most convenient recreation option is the Prisma Health Swamp Rabbit Trail. It runs right through downtown and provides a roughly 20-mile stretch for biking, running and walking. Several state parks are less than an hour's drive away, making Greenville great for anyone who loves hiking or biking. Even though it's not in town, the beach is close enough for day and weekend trips.
Finally, numerous national Broadway shows and musicians visit Greenville's Peace Center and Wellness Arena.
For residents with young children, Greenville provides ample opportunities for exploration and fun, including the Children's Museum of the Upstate.
For more information about Greenville, visit visitgreenvillesc.com.
Getting away
The Greenville-Spartanburg International Airport provides direct flights to a number of major cities, including Atlanta, Baltimore-Washington, Charlotte, Chicago, Dallas, Detroit, Houston, New York City and Philadelphia. Carriers include Southwest, Allegiant, Delta, United and American.
By ground, Greenville is located along I-85 and near I-26. Both Charlotte and Atlanta are roughly two hours away by car.