Pharmacy resident rounding with preceptor in hospital hallway.
Pharmacy Residency Programs at Prisma Health Richland Hospital
Administered jointly with the University of South Carolina, we have offered a residency program accredited by the an American Society of Health-System Pharmacists (ASHP) since 1972.
Innovative pharmacy training
Located in South Carolina's capital city of Columbia, Prisma Health Richland Hospital is an innovative and progressive facility affiliated with the University of South Carolina College of Pharmacy and the University of South Carolina School of Medicine.
Richland Hospital is a 641-bed tertiary referral center with a Level I Trauma Center, freestanding heart and children's hospitals, a pediatric intensive care unit and a Level III neonatal intensive care unit.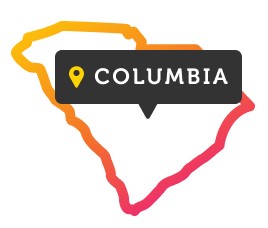 We are accredited as an Advanced Certification Comprehensive Stroke Center and Ventricular Assist Device (VAD) program by The Joint Commission. Our antimicrobial stewardship program is an IDSA Stewardship Center of Excellence.
In addition to our eight pharmacy residency programs and Clinical Infectious Diseases Pharmacy Fellowship, Prisma Health offers 28 accredited dental and medical residency and fellowship programs in partnership with the University of South Carolina School of Medicine.
Our residency programs
Prisma Health Richland Hospital – University of South Carolina
Pharmacy residents rounding with preceptor in hospital.
Prisma Health Richland Hospital Pharmacy Services
There are five pharmacies affiliated with Prisma Health Richland Hospital:
The outpatient pharmacy serves the clinic system and fills about 700 prescriptions per day for clinic patients and team members.
Prisma Health SeniorCare Pharmacy (PACE) serves patients enrolled in the all-inclusive program for the elderly.
The 5 Richland Medical Park Pharmacy serves the main hospital, the Heart Hospital and Richland Springs (our inpatient psychiatric facility).
The operating room (OR) pharmacy serves the OR suites, outpatient surgery, cardiac catherization lab, recovery room, and labor and delivery.
The Children's Hospital pharmacy serves the neonatal and pediatric intensive care units and the newborn nursery.
Our pharmacy care teams
Clinical services are offered by our pharmacies through a team approach that covers all patients throughout the hospital. Our teams include:
Ambulatory care.
Critical care and emergency medicine.
Adult medicine (internal/family medicine, oncology, and cardiology).
Pediatrics.
Antimicrobial stewardship.
Weekday services include:
Drug information.
Medication teaching.
Staff education.
Therapy review.
Parenteral nutrition recommendations and monitoring.
Pharmacokinetic dosing.
Pharmacy consults.
IV to PO review.
Renal dose adjustments.
Transitions of care.
In-house on-call services.
On weekends, we offer basic clinical services including consults and medication teachings. Our drug information center is open weekdays to assist our clinical staff.
Video: Pharmacy residency programs
South Carolina State House
About Columbia, SC
Columbia is the state capital and largest city in South Carolina, with an estimated population of 134,309. The city features a vibrant and historic metropolitan center and is home to the University of South Carolina, which has approximately 34,000 students.
Columbia has numerous attractions, including historical antebellum mansions, museums, galleries, music venues, theaters, shopping districts, Riverbanks Zoo and Botanical Gardens, and EdVenture, the largest children's museum in the South.
The Midlands area boasts numerous sporting venues and outdoor attractions such as Lake Murray, three scenic rivers with adjacent recreation zones, Congaree National Park, Harbison State Forest, and numerous city and neighborhood parks. Only two hours from beautiful South Carolina beaches and two hours from the Smokey Mountains, traveling to and from Columbia is simple in every direction. The city is served by three major interstate highways (I-20, I-26, and I-77) and the Columbia Metropolitan Airport offers daily nonstop flights with three major airlines. International flights are available from Charlotte and Greenville-Spartanburg airports, each about a 1.5 hour drive from Columbia.