Child and Adolescent Psychiatry Fellowship Greenville
Mailing Address
701 Grove Rd.
Marshall I. Pickens C/A Dept
Greenville, SC 20905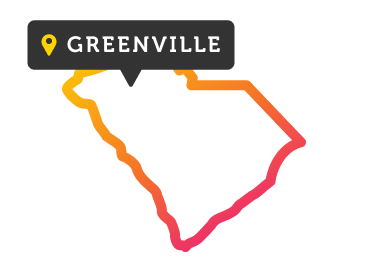 Hello and welcome to the Prisma Health/University of South Carolina School of Medicine Greenville Child and Adolescent Fellowship Program. Thank you for your interest in South Carolina's newest child and adolescent psychiatry fellowship.
Greenville is routinely featured in lists of best places to live in the country. When you visit, be sure to check out the famous Liberty Bridge overlooking a waterfall in the heart of downtown. Take a stroll or rent a bicycle to explore the Swamp Rabbit trail, a 19.9-mile multi-use rail trail that connects downtown Greenville to Furman University and the town of Travelers Rest. Spend the morning at the Saturday Market, sponsored by Prisma Health, taking in the sights and smells of the produce, food stalls, and local arts and crafts.
From March through August, Downtown Alive offers free outdoor concerts on Thursday nights. If you are in the mood for an outdoor adventure, Paris Mountain State Park is just a 15-minute drive from downtown and offers hiking, biking, fishing, canoe and kayak rentals, along with playgrounds and a designated swimming area. There are plentiful restaurants offering a wide range of culinary delights from traditional southern cooking to international cuisine. In addition to the annual Artisphere festival every May, there is a vibrant local art scene in Greenville and the surrounding towns. Within a few minutes' walk from Main Street, you will find The Children's Museum of the Upstate, the Upcountry History Museum, and the Greenville County Museum of Art. Between the Greenville Theatre, The Peace Center, and the Center Stage Theater, there are always new concerts, plays, or performances coming to town.
For sports lovers, the Greenville Drive, a minor league baseball team affiliated with the Boston Red Sox, plays in the West End, just off South Main Street. The two-time national college footbal champion Clemson Tigers are just 30 miles down the road and the Carolina Panthers, Charlotte Hornets, Atlanta Braves, Atlanta Falcons all within two hours of Greenville. The Greenville County School District is the largest in South Carolina and its school choice program and magnet academies offer excellent public education. The local economy hosts many international companies including a large BMW manufacturing plant, Michelin's North America Headquarters, and General Electric.
We are excited about the growth and development that is happening here in Greenville, both in this great city and on our medical campus. There is a system-wide focus on transforming and modernizing mental health treatment in the Upstate. As such, our system has been expanding child and adolescent psychiatric services throughout our community, providing a diverse variety of clinical experiences for your training in child and adolescent psychiatry.
There is a lot of positive momentum here in the Upstate. We would love for you to join us for the great things ahead!